Keyboard Input Window - for RPG MAKER MV
A downloadable Rpg Maker MV - Plugin
Type and store in a variable!
GENERAL
Keyboard Input Window is a plugin that creates a window that allows keyboard typing and store the result inside an in-game variable.
This plugin can be used for different tasks and, if you have a little script knowledge, you have a ton of chances!
Main Features:
Fast response to keyboard typing;
You can call it using a script call;
You can set the position of the window;
You can set a placeholder text;
The width of the window is automatically calculated in relation to the max characters of the string;
You can set the max characters for the text to be typed;
The opacity of the window can be set, too.
It's possible to transform the result string all to lower case;
PLUGIN PARAMETER:
This plugin is provided by a single plugin parameter called Allowed Charset. Inside this parameter you can set which letters, symbols and such can be typed in the window. The ones that are not inserted in the parameter string will not be typed.
HOW TO USE:
This plugin is really simple to use. You have only to type in a script box of an event this script call:
this.create_key_window();

Using the script call this way, the default configuration will be used. However, It's possible to use the script call inserting as argument an object containing different options, like that:

In the example above, It will be created a window with as placeholder the text "Type a secret word..." and the max characters that can be typed to 32.
Specifically, all the options available - and their default value - are: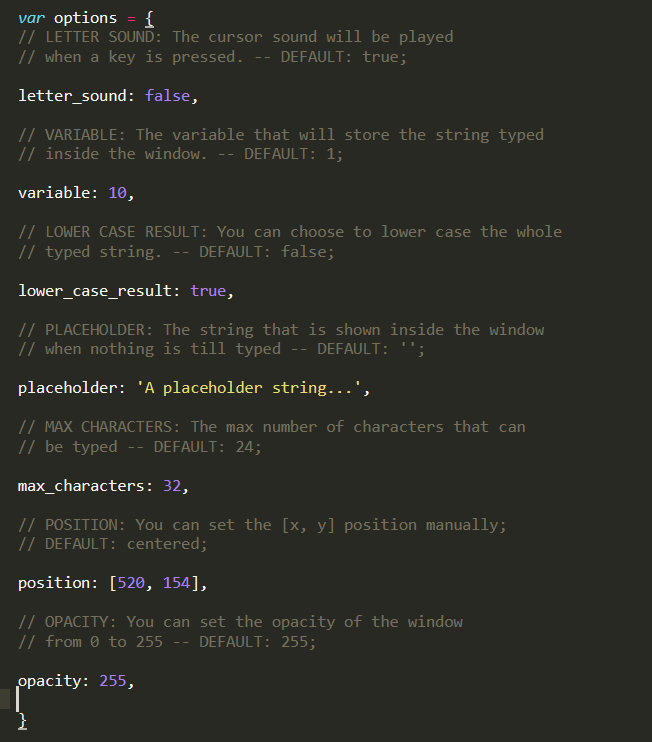 WARNING! All the properties are CASE SENSITIVE, meaning that they needs to be correctly written.

Down there an event example for setting an an actor name through this method: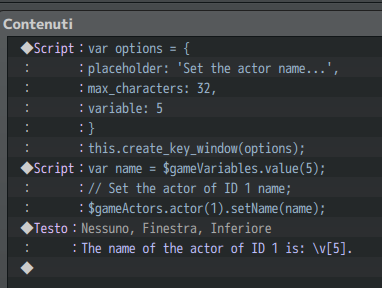 The event above creates Keyboard Input Windows that has as placeholder the string "Set the actor name..." and It stores inside the variable of ID 5 a string that has max 32 characters.
PLUGIN COMPATIBILITY:
This plugin should not affect directly any plugin. However, I'm not responsible for plugin errors that are not directly related from my plugin itself.
RPG MAKER VERSION:
The plugin is developed on Rpg Maker MV - Version 1.6.1 and with the related PIXI.js Version 4.5.4. It should be compatible with older version of Rpg Maker MV.
TERMS OF USE:
Credits are not necessary. but highly appreciated. Credits to Nebula Games.
Avoid to change plugin information, filename and parameters name for the sake of integrity of the code.
Edits to the code are allowed.
The plugin can be used for both commercial and non-commercial projects.
You can't redistribute this plugin as it is or incorporating portion of the code inside another plugin;
Thank you very much for the support!
Purchase
In order to download this Rpg Maker MV - Plugin you must purchase it at or above the minimum price of $2.99 USD. You will get access to the following files:
NE_KeyboardWindow.js
8 kB