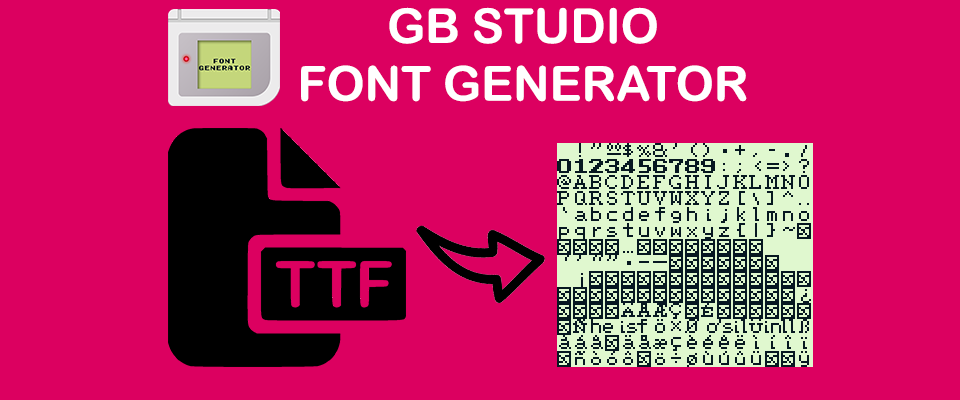 GB Studio - Font Generator
A downloadable GB Studio Utility for Windows
UPDATE AT 13/12/2021
Considering the recent release of GB STUDIO V 3.0 I'm going to release as soon as possible a new version of this software for creating compatible font formats with this new version. For more information about the new font format you can give a look to the official documentation.
GENERAL

"GB Studio" is a visual game builder that allows making real Game Boy games with a user-friendly point 'n click approach. The engine renders game fonts using a png image (ascii.png) that reads a table of characters set in the engine itself. As it can be really tedious (for myself) to create custom fonts every time from scratch or to edit the file inside a graphic software, I have decided to create a tool that makes this process easier.
GB STUDIO FONT GENERATOR: FEATURES AND PURPOSES
This tool is really simple to use: it allows to load a truetype font file (.ttf) and to generate a png formatted to the one used by GBStudio. This way, it would be easier to test various fonts inside your game and to find the one that you think will fit! Describing the features in few points:
Standalone Executable: It does not need any installation. You unzip the archive and start the software.
The font is already generated for GB Studio use: the font table and the file format and size generated, It allows you to use it directly inside the engine.
Lightweight size: The software has been developed in Python and It sizes only around 20/30 MB. Perfectly portable!
TIPS AND SUGGESTIONS

The tool works really well when using fonts that can be sized at 8px (the size of a square on GB rendering). The tool has been tested using these fonts from Dafont:
FUTURE VERSIONS ADDONS:

The tool already helps to speed the development workflow. However, I was thinking to release a new version in the (hopefully near) future that allows to:
Chance to add extra vertical spacing;
Compatibility with .ttf bitmap fonts not sizable at 8px;
Thank you for your support!
Purchase
In order to download this GB Studio Utility you must purchase it at or above the minimum price of $2.99 USD. You will get access to the following files:
GBS Font Generator 1.0.0 .zip
16 MB
Comments
Log in with itch.io to leave a comment.
Do you know if this will work in Linux using WINE?
Hello there!
I never tried using it on Wine. However, since the software has been developed in python and then used Freeze for the Exe compilation, I suppose that It could work on WINE, too.
However, I think your question is pretty valid and I'll try myself asap!
How do you even use this program? Where does the program file go? Where does the file generated go? Your page doesn't explain how this works
Hi there! The software is standalone and it does not need an installation. Extracting the software's folder from the attached archive, you will directly find the program executable. About the use, the process is pretty direct: open the software and you will find a file dialog for opening a .ttf font file -> after selecting your font file a preview is generated in the software. Pressing the button "SAVE" the software will generate inside the folder where you have executed it a file named ascii.png.

One of the attached images in this page is a GIF showing the whole progress :)
Furthermore, considering the recent release of GB STUDIO v3.0 it seems there are edits on the font's image format and a new version of this software will be released as well :)

Thank you for your feedback!
Wonderfull ! Is there any Mac version planned ?
Yes, it is! I hope to release it when I'll complete the v1.0.1 version of the software. Thank you for your interest!